Current and Upcoming Books
FIRST RESPONDERS Vol. 1 (print)
Includes Off the Clock and In the Line of Duty
Samhain Publishing, February 4, 2014
Off the Clock
When paramedic Gabe Brenner witnesses an accident and rushes in to help, he's surprised to find his best friend's sister is in the car. And she's pregnant.
Carly's never been so glad to see a friendly face. But having just closed the book on a crumbling marriage, she's not too keen on opening herself up to hurt again. Not even for the one man who's always seemed to be there when she needed him most.

Gabe knows he shouldn't be falling for Carly, but the chemistry still simmering between them after all these years is no accident. All he has to do is convince her she belongs in the space he's always held open for her.
In the Line of Duty
Ex-soldier Jake Symonds has been a thorn in Constable Kendra Givens's side since the night they first met, when she had to throw him in a cell. Two years later, she's called to a break-and-enter at his pub and is surprised by the now-competent businessman offering to cook her breakfast.

Their emotional baggage might be stacked too high to risk anything deeper -but Kendra soon realizes the greatest danger Jake presents is to her heart.

Warning: Side effects include elevated body temperature and heart palpitations. Read with caution and keep your first responders on speed dial.

HER RANCHER RESCUER
Cadence Creek Cowboys #6
Harlequin American Romance, February 2014
Small-town girl, big-time crush...
Amy Wilson longs to escape the pointed barbs and knowing looks that come with having a certain reputation in a small town. A temp job with CEO Jack Shepard seems to offer a way out, if only she can stay focused on her goal.
Former world-class athlete Jack is as relationship-phobic as they come, so he's not worried that the soul-shattering kiss he and Amy shared will affect their working partnership. She's a girl who's going places, but Jack starts to wish that maybe he could tag along for the ride...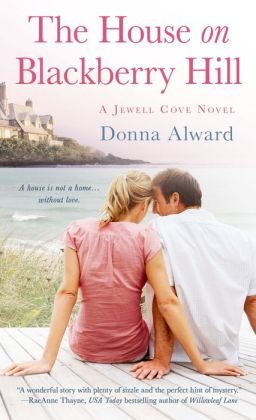 THE HOUSE ON BLACKBERRY HILL
Jewell Cove #1
St. Martin's Press, April 29, 2014
When a young woman inherits a rundown mansion, the last thing she expects to find is the key to her heart...
Abby Foster is a fish out of water in the Maine coastal town of Jewell Cove. The crumbling Foster estate, left to her by a relative she never even knew, has everyone's eyes on her - an eerie reminder of the long-buried family secrets that have haunted her...forever. Single, stunning, and sometimes too strong-willed for her own good, Abby's plan is to sell the house and hightail it back to Nova Scotia. But another part of her is intrigued by the idea of starting over somewhere new - and finally learning the truth about her heritage.
THE HOUSE ON BLACKBERRY HILL
Enter Tom Arseneault. The best contractor in Jewell Cove, Tom is determined to restore the beauty and prestige of the Foster mansion - and maybe even work his charms on its beautiful new heir. The attraction between him and Abby is undeniable, and the more time Tom spends on the house the more he wants to be in it with her. But Abby's not sure she can trust him - or anyone in Jewell Cove who seems to know more about her family history than she does. Home: Is it really where the heart is after all?
"Donna Alward writes warm, memorable characters who spring to life on the page. Brimming with old family history, small-town secrets and newfound passion, you'll want to pack up and move to Jewell Cove, Maine!" -- Lily Everett